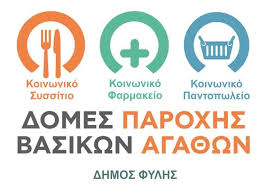 In the Municipality of Fylis, the program has been operating since October 2017 with the Title of Action: Structures for the Provision of Basic Goods: Social Grocery Store-Social Cooperative -Social Pharmacy of the Municipality of Fylis" with OPS code MIS 5001831, which has been included in the Priority Axis "Promoting Social Integration and Combating of Poverty and Discrimination – Ensuring Social Cohesion" in the Operational Program Attica 2014-2020. The European Union supports through the European Social Fund the operation of these structures for 3 years with the possibility of extending the program.
The Structures of the Social Grocery-Social Fund and the Social Pharmacy are supervised by the Directorate of Social Protection, Education & Culture of the Municipality and are aimed at: socially vulnerable groups of legally residing in the Municipality of Fylis (unemployed, uninsured, insured who are threatened or in a situation poverty, elderly, homeless, victims of abuse, etc.).
More specifically, the Structure of the Social Grocery Store its primary goal is to meet needs by providing free products and essential items. The Social Group ensures the supply of free meals on a daily basis to vulnerable social groups. Accordingly, the Structure of the Community Pharmacy has as its main objective the free provision of medicines, health materials and parapharmaceutical products.


In addition, the structures also provide the following services:
– Psychosocial support and counseling for the beneficiaries
– Information and specialized information services
– Services to connect beneficiaries with local agencies

Basic Goods Supply Structures operate from Monday to Friday. For more information and clarifications, contact the corresponding structure:
Social Grocery: Athens 18 Ano Liosia 2114115224-5
Social Forum: Athens 24 Ano Liosia – 2102482155
e-mail [email protected]
Social Pharmacy: Athinon 31 Ano Liosia – 2102487686
e-mail: [email protected]